Collaboration Workshop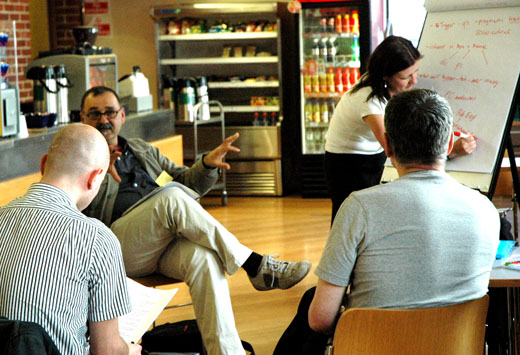 A one day workshop was held in London to explore partnerships between engineers and designers for public engagement.
The overall theme of Material Beliefs is to encourage a public debate over the impact of technologies which give rise to novel interactions between our bodies and materials. In what ways will we become extended, dispersed, improved, displaced, or empowered by new arrangements of engineering around and within our bodies?
The workshop was a one day event on April 18th. A group of 30 were drawn from engineering and design backgrounds, as well as from science communication and social sciences.
In the morning there was a range of short presentations about recent collaborations between designers and engineers. The afternoon was structured as two breakout sessions, sketching a model for embedding designers within UK engineering departments, and providing some groundwork for the collaborations.
You can download a programme here, a delegate list here, details of the breakout sessions here and a presentation from the workshop on Material Beliefs here . The presentation includes images of other peoples work, let us know if you need more details about sources.
See some documentation from the event below.
---
Workshop Posters
Before the event, atendees were invited to comment on what they thought about the aims of the workshop. Phrases form their responses were made into posters that were displayed at the workshop.
Click an image for pdf version.